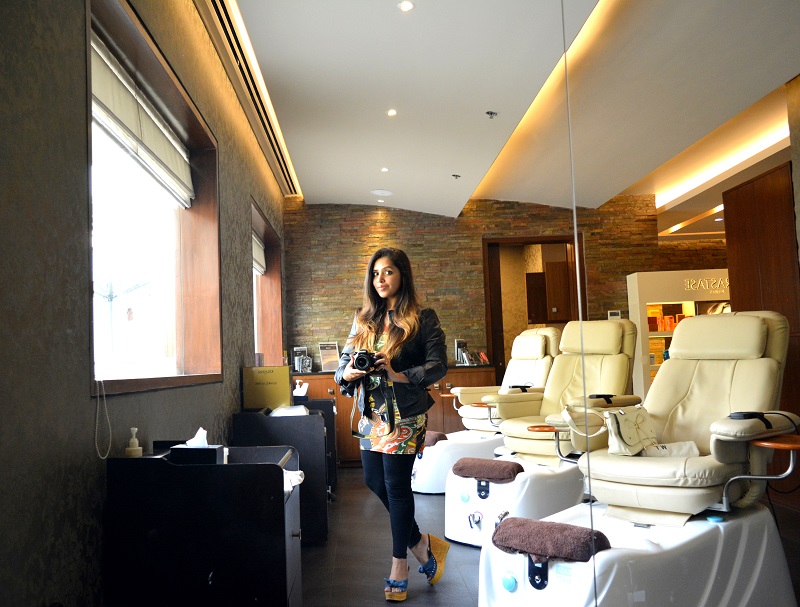 A day at Warren Tricomi getting Menage A Trios: Review
I make sure I keep atleast a day every week to myself..excluding the weekend ofcourse. This one day I tune out social media (which by the way is my work) and concentrate on my mental and spiritual well being..
..phhhbbbbbttt!! It basically involves grabbing a large bowl of popcorn and watching Two and a Half Men all day in my pajamas. This time I gave my polka dot pajamas a break and moved my butt to get a facial along with a manicure pedicure. I went to Warren Tricomi at The Manor in Friends Colony. As you would expect with spas, this too felt like a different world altogether as soon as I entered. You have to walk through a very beautiful garden to enter Zehen where the spa is. I wish I had taken a friend along to do an outfit shoot there, the opportunity was too good to be missed but I was alone (refer to the ME time above) and I still managed a shoot! I figured instead of an OOTD I could click some makeup shots for my reviews on VNA. I had an event to go to later on so I was carrying some makeup with me. You will see those shots on VNA soon.
I tried out Menage A Trios which includes a manicure, pedicure and an express facial. It basically means 3 people work on you at the same time. In my case, there were only two due to shortage of staff. They used Forest Essential products on my face while for the mani pedi they used Cuccio. It lasted around an hour which I thoroughly enjoyed while sipping my green tea. Although I have to say that the facial was nothing extra ordinary. I am absolutely head over heels in love with how my hands and feet looked, which really showed as I quickly instagrammed (@vanitynoapologies) my mani as soon as I left (chuck social media ban) I still have that cotton lime shade on my hands. It has been around 3 weeks and it has only chipped from the edges. Nope not kidding.
The view was as good as the location (check out the last picture) It didn't feel like the Delhi we are used to. They also have this garden cafe which you should check out. I am planning to go there again, this time with my buddies..who are by chance good photographers..by chance.
I recommend the Menage A Trios to the girls who suffer from time crunch. You can take out an hour during your lunch break and get 3 services done quickly. I too had a launch event to attend the same afternoon so I carefully picked this quick service which didn't disappoint.
Price: Rs.2700
Address: Zehen at The Manor, 77, Friends Colony (west), New
Delhi
– 110065 (use google maps to reach as the locals always confuse this place with something else)