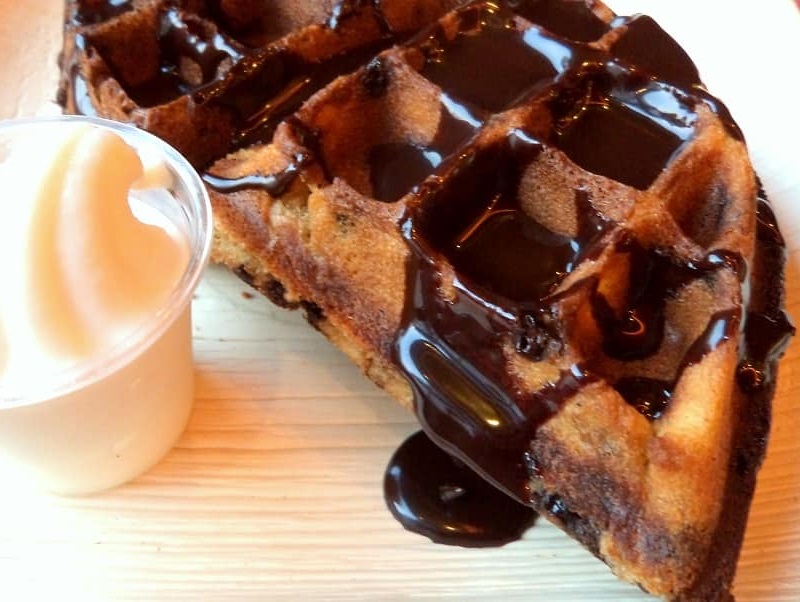 Smoothie Factory Delhi Review
Well I will settle for smoothie till the time I find a chocolate factory. Every time I go out, I look for a new place to eat. I guess that's because I get bored easily. Googling reviews on Zomato is one of my favourite pass times! Ever since I heard Smoothie Factory opened a new branch closer to my place I was itching to try their smoothies and snacks atleat once. They have their main branch at Nehru Place which is quite far from my place but now they have opened in Connaught Place (right next to Cotton Emporium in Janpath) My favourite adda in CP is Dunkin Donuts because its not madly crowded like KFC and McDonalds where you have to wait in line for a seat. And I guess I have found a new adda too.
I went to Smoothie Factory recently and the first thing I ordered was a Blueberry Smoothie and a Very Berry Smoothie (yes two because I couldn't pick just one!) and they truly have named the food joint right. Its a heaven for those looking for healthy and nutritious smoothies without compromising on the taste.
Here comes the Mushroom Alfredo Pasta. If you know me personally you would know I can live off pasta all my life. So is natural for me to try out pasta at every new place I go. Much like how my bro tries dal makhni with butter naan at every freaking place, its not even funny. We always have to go to a place which serves north Indian which totally limits our choices! Coming back to the pasta..oh yes. Not the creamiest pasta ever but still quite filling. I would have liked it with garlic bread though.
My lunch date Lisha ordered the Farmhouse Flat Bread and it looked absolutely beautiful..err is that a word you would use for food? I guess all the food bloggers will agree. While she gorged on the sandwiches, I spent my time taking their pictures.
Isn't this one an instagram worthy shot? I would have but I already put a lot of food porn there and so many of my followers complain that my pictures make them their life even more difficult! What can I say..thank you!
Oooh now comes the star of the show. I had already made up mind on the chocolate waffles and blueberry smoothie before going to Smoothie Factory and they turned out to be my favourites from their menu. Its the Choco Chip Multigrain Waffle which is served with some frozen yogurt. I asked them to put some chocolate syrup on it..ditch the diet! It was quite crispy and I ate it off my hand.
They let you customize your frozen yogurt with the yogurt flavours and toppings. They serve 3 flavours of yogurt and lots of toppings for choice. You can add as many toppings as you want as its calculated on the basis of weight. I went for strawberry flavour with atleast 8-10 toppings! They didn't have any dry blueberries on them but on my special request they brought them from the storage. Yaaay!
I asked the guy to reduce the quantity of the yogurt because you know me! The more toppings the better. I literally spent 10mins on the toppings carefully picking everything from gems to 5 star chocolate chunks! Although they still have to up their Froyo game by introducing a few more flavours because all the available flavours were a bit too sweet for my taste. I'm a huge froyo addict and it turned out quite average for my liking. Check out my IG for all my froyo indulgences..I told ya I have a whole lot of porn there!
Price list of all the food items I tried:
Very Berry & Blueberry Blast Smoothie Shakes: Rs.189 each
Mushroom Alfredo Pasta: Rs 219
Farmhouse Flat Bread: Rs 149
Choco Chip Multigrain Waffles: Rs 109
Frozen Yogurt:Rs 1.09 per gram (an average cup would cost around Rs.100-150)
I quite like their budget pricing along with food options available. I totally recommend their smoothies (ofcourse!) Blueberry blast is a must try for blueberry lovers like me. Very Berry was more tangy and I loved it as well. They are low fat and make for a healthy choice instead of regular diet cokes. I was quite full that day (may be because of the spa meal I got earlier that day) so only tried a few stuff. Next time I'm definitely trying out more options from Smoothie Factory. Will probably tweet when I do! If you have any suggestions to make then please do.